What Does It Mean To Be A Technical Co-Founder?
A technical co-founder is someone who has a vested interest in the startup's success and vision. This person possesses the technical expertise essential for the product's development, launch, monitoring, and scalability. They manage the tech teams, oversee the development process, choose the best technology, and even oversee the entire IT infrastructure setup for the product's development.
There are many different ways for a firm to recruit a technical co-founder. For example, they can hire a Chief Technical Officer, partner with a software development company, or recruit a technology-savvy co-founder. This individual has the technical competence and is in charge of the startup's founder-level responsibilities.
Proven Ways
To

Find a Technical Cofounder: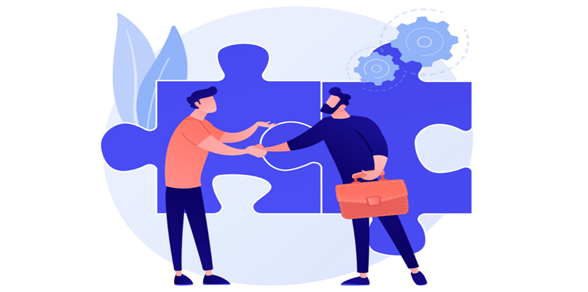 If you're having trouble finding a co-founder, here are four tried-and-true methods for quickly getting you in front of the right people.
Begin With A Partnership.
Entrepreneurs spend more time with their co-founders than with their families on average. As a result, pitching strangers for a co-founding role is unlikely to succeed. Co-founders, like family members, cannot be recruited. You should have a personal and professional relationship, shared interests, and complementary skills.
Hiring a co-founder and using the first few months to analyze and get to know each other before proposing to change the partnership into a co-founding relationship is one of the most effective strategies to locate a co-founder without burning phases.
Begin With Your Personal Network
Your personal network is the best place to start your search. Examine your first-degree relationships. These are people you know personally, preferably in your desired industry, and the necessary skill sets to fill the role.
If your first-degree connections produce no results, move on to your second-degree connections. At this point, you should consider who you know who has an extensive network of people who could offer you a match. Ensure to investigate your entire startup ecosystem, including Colleagues, VCs (Venture Capitalists), Lawyers, Accountants, and Consultants.
Find a Provider of Startup Solutions
Looking for a technology partner using internet directories, Google, lists, and other resources can be a terrific way to find a startup solutions partner. You can provide your ideas to them and have their consultant further discuss them. It's not difficult to find a dedicated web development business or a startup solutions supplier. You can hire such companies to help you develop your initial product or MVP. Then, you can collaborate with them as a technology partner and grow with them in your product sales.
Document And Share Your Journey
Sharing your startup journey might help you in a variety of ways. One of the benefits is that it allows you to create a community and share your concept and ask for input from entrepreneurs. This provides you with validation and introduces you to others interested in assisting you in the development and launch of the product.
You may keep track of your startup's progress in various ways. Starting a blog on your website is a smart technique for offering ideas and insights about your space while keeping readers up to date on your progress. This technique will assist you in increasing organic traffic via search engine rankings while also attracting key stakeholders such as co-founders, investors, and prospective employees.
Proven Places To Find A Technical Co-founder

1.

CoFoundersLab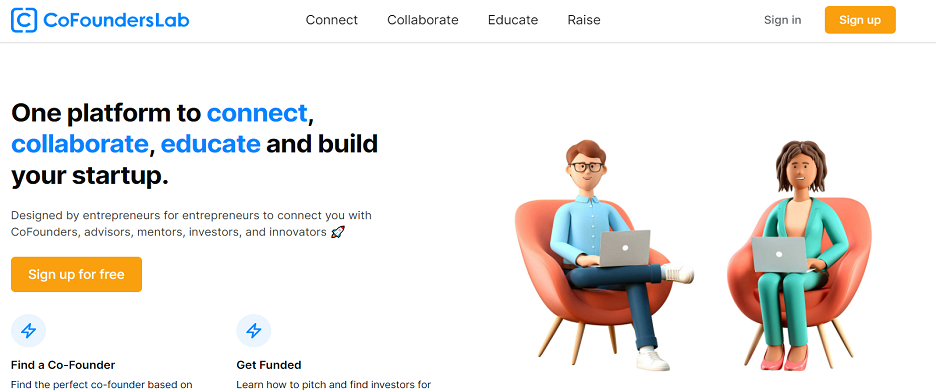 CoFoundersLab claims to be the world's largest entrepreneurial network. You can find not only like-minded co-founders but also investors, advisors, and mentors through CoFoundersLab.
CoFoundersLab, which has a 600,000+ strong community of entrepreneurs, uses AI to match you with the best and most like-minded people. It also enables you to expand your network by hosting a discussion forum and regular webinars. CoFoundersLab also enables you to search for and connect with other entrepreneurs directly.
CoFoundersLab has an excellent learning center to help founders develop the necessary skills. Although CoFoundersLab's basic membership is free, the premium plan ($15 per month) provides additional features and benefits.
Pros
On the site, there is an extensive network of people. They also share links to their social media and LinkedIn profiles, which is helpful if you want to connect with someone outside of the platform to see if they are who they claim to be.
You can search by location and expertise, and you can even find a mentor if you're looking for one.
A community forum allows people to ask questions about starting a business and find potential collaborators.
Cons
The site has so many people listed that it can be overwhelming.
The user experience on the site is buggy and confusing; there are too many things going on, making it difficult to navigate. Every option you select opens a new tab, which is inconvenient.
Many of the profiles appear dormant, and there are numerous fake profiles. Many people on the platform are looking for work rather than a legitimate co-founder.
Be prepared to be inundated with spam messages if you use this site.

Indie Hackers, as a community, has made significant changes in many people's lives. It is a forum for the founders of profitable startups and the owners of successful side projects to share their experiences.
At the same time, aspiring entrepreneurs can benefit from shared experiences. The emphasis is on "independent" entrepreneurs, business owners who earn revenue from customers rather than being paid by an employer.
Furthermore, the website includes a forum where "indie hackers" can share knowledge, explore ideas, and offer support. This community is the best place to learn from aspiring founders globally. Because this platform's sole purpose is to inspire, educate, and build a community. All young entrepreneurs can learn about their experiences by reading their articles.
Even you can be an indie hacker if you take action early on because the future is all about side projects and solopreneurs, and it will undoubtedly be a big thing!
Pros:
Things can get lonely when you first start working on your idea. Having a place like Indie Hackers to express one's thoughts and frustrations helps combat this.
Indie Hackers also allows influential online entrepreneurs to share their stories via podcast.
Being in the spotlight allows you to tell your story uniquely.
The Meetups community is one of the many vibrant groups on Indie Hackers that facilitates networking among entrepreneurs.
When you join Indie Hackers, you will be able to join various groups based on your personal goals and preferences.

Start Hawk is an international niche platform that assists business owners in finding the co-founders they require to realize their dreams. Start Hawk founder Ben needed a kickstart to buzz the networking culture, connecting like-minded entrepreneurs for mutual benefit, with Google rankings virtually non-existent and organic traffic low.
To find a co-founder, create a profile on StartHawk and include information about yourself and your idea if you have one. You can find hundreds of entrepreneurs looking for a co-founder just like you on the Find a Co-Founder Page.
You can use filters to specify your search results and see more relevant people. If you find a potential co-founder, add them to your contacts list or send them a message. Other people can find and contact you in the same way. Starhawk also has a forum called The Nest, where you can discuss and find solutions to business problems.
Pros:
Starhawk's distinguishing feature is its intuitiveness, which allows for a quick and straightforward messaging experience between co-founders.
The simple messaging system allows co-founders to communicate quickly and easily, and the filters will enable them to narrow down the type of co-founder easily.
Its goal is to connect entrepreneurs worldwide with the co-founders and knowledge they need to start successful businesses.
Cons
You can't see which industries people have worked in, and the bio is very brief.
The major disadvantage of the platform is that it appears that anyone can sign up, which may reduce the quality of the people on it. Furthermore, there seems to be no vetting process in place to approve people for the platform.
You could waste a lot of time sifting through hundreds of profiles to find the perfect match.

Startup School is a Y Combinator project that offers free online training to startup founders. Anyone may easily locate the appropriate co-founder for their firm.
Startup School has its platform for matching co-founders. Set up a profile on Startup School and fill out some basic information about your skills, interests, location, experience, and to find a co-founder for your startup.
If you already have an idea or startup, it will ask you for more information. Otherwise, you can provide additional details about your experience and skills so that the other co-founders can get to know you better. It will then allow you to submit the profile for review.
It matches you with appropriate entrepreneurs once you've been approved. You can invite them to connect if you like any of them.
Pros
The dashboard is simple to use; you have instant access to the curriculum of 22 videos that cover topics ranging from how to pitch your startup to how to boost your conversions.
The YC Library will provide you with access to hundreds of guides and videos. All of these have been created by startup specialists who have gone through launching their own businesses.
The content is of very high quality, and you can gain detailed knowledge about starting a business from scratch.
Cons
Because this platform isn't solely for finding co-founders, you'll need to actively network if that's your primary goal.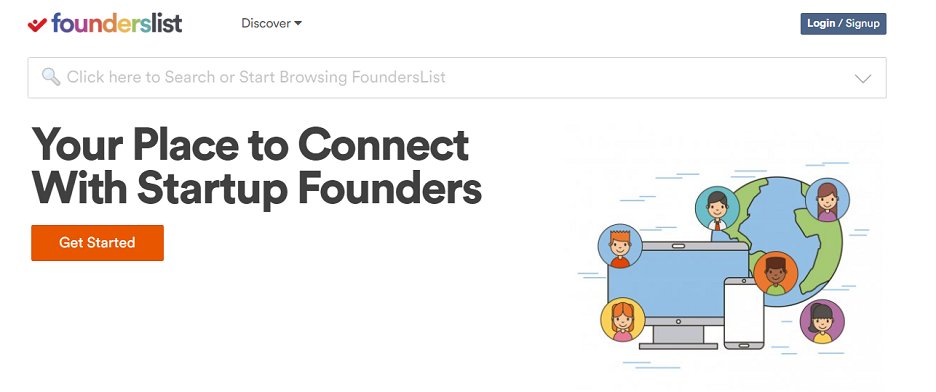 Another platform that allows you to connect with startup founders is FoundersList. You can use this platform to connect with other business owners, find co-founders, get deals, and participate in discussion groups.
Set up a profile and visit the Co-founders page to find a co-founder. Here you will find a number of people searching for co-founders and an overview of their startup and its criteria. You can narrow down the results by business stage, location, and type of co-founder.
There are numerous groups on FoundersList based on industry, interest, and location where you can expand your network and participate in discussions.
Pros:
It is entirely free.
They also host startup and founder events to facilitate networking and learning from industry experts.
Another helpful feature of the site is a list of heavily discounted startup tools.
The site is easy to use, and you can sign up to be notified when new co-founder listings are posted.
Cons
People do not list personal profiles; instead, they list currently available opportunities. As a result, there are fewer opportunities to collaborate and connect with someone who has the ability to co-found a business but is still in the concept phase.
The majority of the available opportunities are for established startups.
It isn't easy to judge the quality of the people who post opportunities on the Founders List. Many of the startups looking for co-founders, on the other hand, already have funding.

GrowthMentor is a curated platform of startup and marketing mentors who have demonstrated expertise in their respective fields.
Startups, marketers, and entrepreneurs, can meet with these mentors one-on-one via Zoom, Google meets, or Skype. Find all mentors or get personalized results by filtering criteria such as language, objective, software tools, or industry.
Another excellent way to make use of the platform is to schedule a call to validate your ideas and the general direction of your marketing strategy. Mentors are available from world-class companies that want to share their expertise with others, and they've come to share their knowledge and assist others in learning what they had to learn the hard way.
Pros
When you sign up for a Growth Mentor profile, you can choose 'find a co-founder' as your networking objective.
The onboarding process is straightforward, and you can be very specific in your search for the right person to assist you or potentially become a co-founder.
Browse the list to see if anyone has the expertise you require, and then reach out to see if they are interested in connecting.
Cons
Growth Mentor isn't a co-founder-specific platform, and many mentors aren't looking for a co-founder. As a result, it may take some time to cultivate relationships and find the right person to work with you to bring your vision to a successful conclusion.
What if I Can't Find a Technical Co-Founder
As you can see, finding a tech co-founder is a challenging task. Even if you have a proper business plan for your product, complete with projected profits, there is still a significant risk of not finding the right person. The co-foundation agreement is another consideration. You may face legal issues regardless of how appropriate your prospective partner appears.
If you are unable to find a co-founder for your startup from the start, you could consider hiring a senior-level tech expert or outsourcing any tech task. We want to outline the options that are always accessible to you:
Identifying a Reliable Technical Partner
Tech partnership entails delegating development tasks to third-party organizations (development vendors, a single remote programmer, or a dedicated team). Having a technical partner means that the risks and rewards are shared. Working with a technology partner, you provide technical aspects and other technical documentation to the outsourcing development team and then wait for the job to be completed.
Your remote PM is responsible for forming a development team based on your task, providing project timelines, and estimating costs.
Hiring a CTO
A chief technical officer leads the tech department. If your startup is small, the CTO will be in charge of completing the project's most challenging programming task. Large corporations hire CTOs to serve as the company's tech visionary. In this case, a CTO is responsible for monitoring new technologies and serves as the company's tech face. A CTO can approve applicants for technical positions and manage the development process as a whole.
Conclusion:
It is critical to meet as many people as possible when looking for a co-founder via co-founder sites, social media, events, or above. This can get people talking about your product and create a buzz around it, which is obviously a good thing! Many entrepreneurs are concerned that someone will steal their idea as they spread it around. You should, however, be able to describe the problem you're solving without giving away your exact solution. You may also benefit from asking people after a conversation, "Who else should I talk to?" to continue expanding your network. The goal is to locate the perfect individual to carry out your concept before anyone else does.